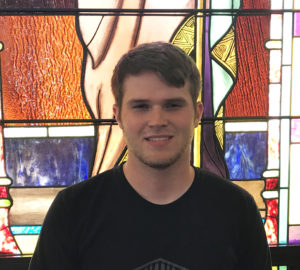 Meet Will Murray, St. Francis de Sales' summer college intern! Will is currently a sophomore at St. Mary's University of Winona, Minnesota, majoring in Theology. The son of very active parish volunteers, Tom and Kathie Murray, Will attended SFDS grade school from 4k thru 8th grade. He is a graduate of Catholic Central High School. Will is an avid fisherman and also enjoys bowling and golfing.
Will is planning on helping out with the religious education programs this summer. Under the direction of Michael Deane, he will be assisting the staff for the children's Vacation Bible School and also will be attending Stuebenville with the high school kids. In addition he will be helping to organize, file, and do some computer work. He has some new things he hopes to introduce as well. "During my first year at college there were many opportunities for college students to be involved with the Church. Some of the opportunities I attended at St Mary's, of which I hope to bring to St Francis, are Fitness&Witness and Cor Jesu. Fitness&Witness gives high school and college students an opportunity to be active during the week and also gives the participants the opportunity to be a witness to God's Word. Cor Jesu, meaning the Body of Christ, is recognized and utilized throughout the United States. Cor Jesu gives people the opportunity to participate in Adoration with Christian contemporary music, have confession, either have Mass or listen to the day's readings, and finally having an ice cream hospitality afterwards."
We are very grateful that Will is volunteering his time and talent this summer at our parish. What does he hope to get out of it? "My hope is that during my internship I will find out whether working in a Catholic Parish is the route I will take post-college." We are thrilled to have a person of Will's age and experience to work with the youth in our parish this summer. Please give him a warm welcome!