By Gwen Faust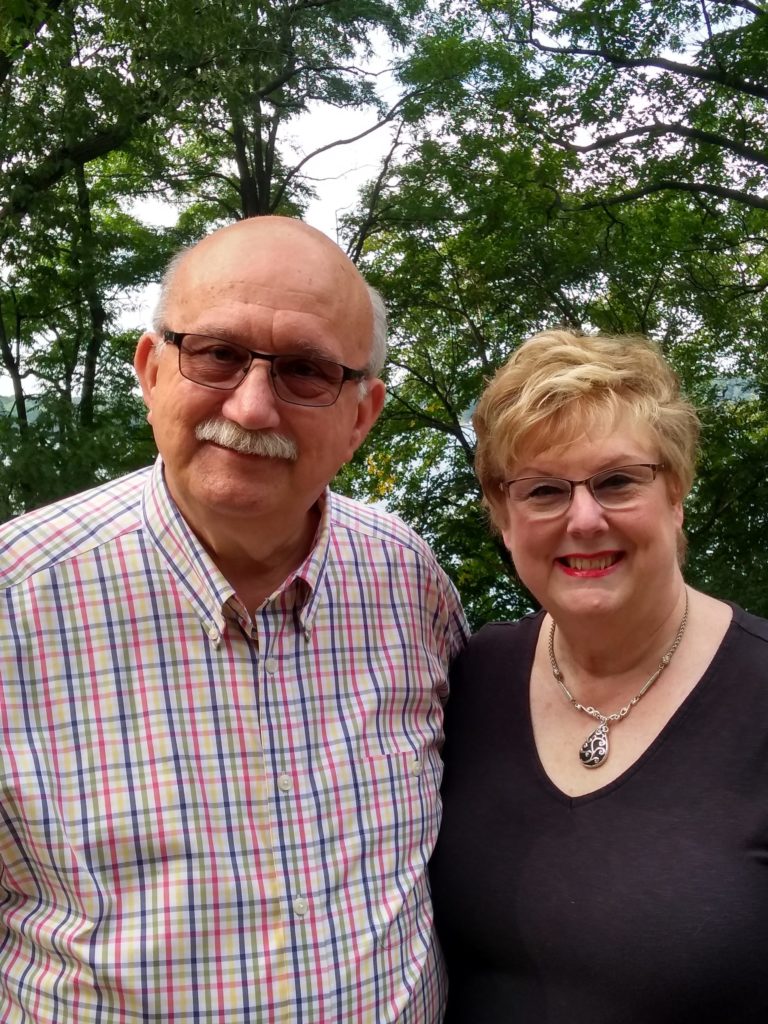 George and Kathy Melcher met backstage while working on a production of "Romeo and Juliet" in a Milwaukee theater. And, in the course of bringing the characters to life, they created their own love story.
They continued to work on a variety of shows together as part of the Milwaukee Players, which was a semi-professional theater group. George pursued the technical side of the productions as stage manager. And, Kathy moved on stage to the delight of audiences.
Following a production of "Hello Dolly," the couple were married. Now, 46 years later, they look back over their busy lives with warm and loving smiles.
Kathy grew up in a suburb of Washington, D.C. and discovered that she liked singing, when she was about three years old. And since her parents took her to see many Broadway shows, she had plenty of material to express herself. When she wasn't singing, she enjoyed ice skating and took lessons from the Ice Capades, who ran ice skating schools.
Art also was significant in Kathy's life. She earned an associate's degree in fine arts from Montgomery College in Maryland and a bachelor's degree in art education from the University of Maryland. Later, Kathy pursued master's studies and certification in art history from Carleton College in Minnesota.
Kathy's professional life included teaching art for a year in Annapolis, Maryland. She then moved to Milwaukee. She taught art to students ranging from kindergarten to senior high in the Cudahy School District. She also was chairperson of the art department at Cudahy. Kathy remained with the school district for 32 years until she retired.
George, the oldest of eight children, is a native of Milwaukee. With roots in agriculture, he is a graduate of the University of Wisconsin-Milwaukee with an
emphasis in geography.
His first job, following college, was a planner for the southeastern Wisconsin regional planning commission. He was there for three years. Then he became the Director of Planning and Development for Kenosha County for 37 years. He held this position until he retired.
George and Kathy resided in Milwaukee during their early married life. They subsequently built a home on Powers Lake. Along the way the happy couple welcomed two sons, John and Ryan, into the world. Since then, they have been blessed with two grandchildren, Gwendolyn and Wyatt, who are children of Ryan and his wife, Reegan.
After their wedding, George and Kathy reminisce that the first Mass that they attended on their honeymoon was at St. Francis de Sales. Consequently, they were delighted when circumstances brought them back to St. Francis.
Kathy has been active with the music ministry at St. Francis for more than 15 years. Having served as a cantor in other parishes, she is pleased to be a cantor with St. Francis. She also belongs to the Sunday morning 10:30 Chorale.
In talking about being a cantor, Kathy said, "I thoroughly enjoy bringing the congregation into sung prayer. We have a singing parish."
George has been a regular face at 5:15 p.m. Mass on Saturdays. He has been an usher at this Mass for over 10 years and said, "I enjoy welcoming people into the church."
The only drawback to their ministries is that George and Kathy rarely get to sit together at Mass, since they usually volunteer on different days.
When they are not busy volunteering at St. Francis, the couple continue to lead active lives.
Kathy is back in academia as the director of community education at the Wheatland School District. She also teaches painting, glass fusing, and clay pottery there. In addition, she shows her glass works and paintings at various exhibits. Meanwhile, George particularly enjoys woodworking.
Thank you, George and Kathy, for your many contributions to the St. Francis community. You both help to raise our voices and spirits in joy and prayer.