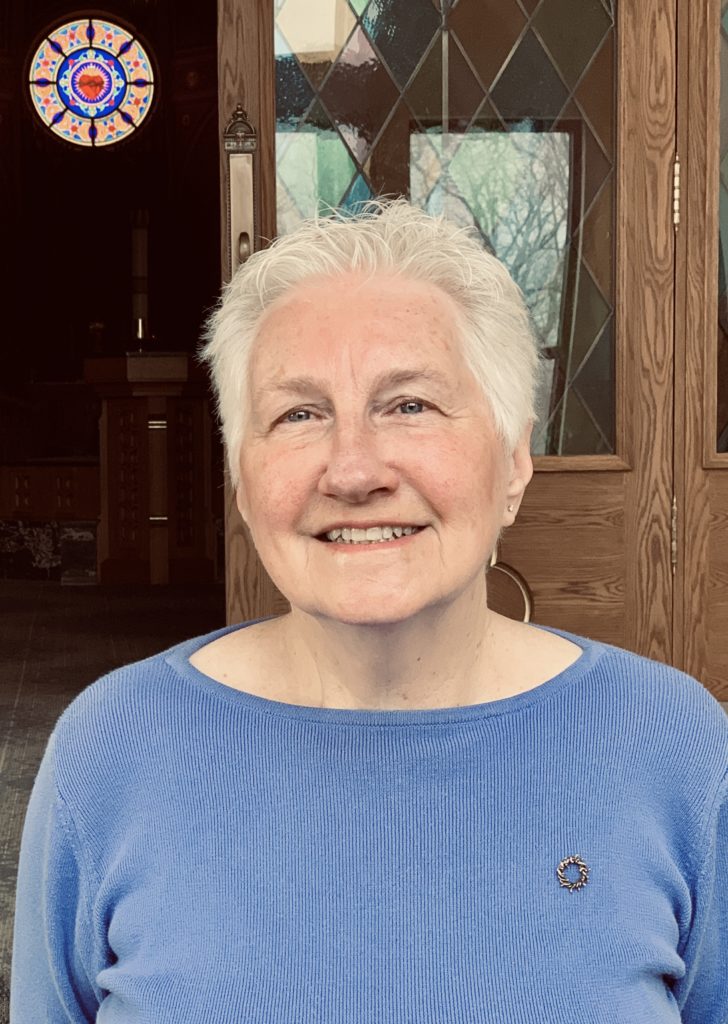 For the past 25 years, Jeanne McCarron has quietly and steadily made a difference at St. Francis de Sales parish in numerous capacities. Initially recruited by Fr. Dave Braun, Jeanne started her volunteer career as a lector and served on the Prayer and Worship committee. She is also a Eucharistic Minister and helps to run our parish's early morning communion services. She started up a program to bring communion to nursing homes and the homebound. She is currently our parish sacristan and also heads up the Bereavement Ministry.
Jeanne and her husband, Bill, have 7 children, 9 grandchildren and 3 greatgrandchildren. She spent her 45-year career as a nurse (including 27 years as surgical nurse and 6 years as a hospice nurse). As a little girl, Jeanne would accompany her mother to their church, as her mother was also the sacristan for their parish. The role of the sacristan is a "behind-the-scenes" one to help keep things organized for Masses. Here at St. Francis de Sales, Jeanne refurbishes the hosts and wine, maintains the sanctuary candle, launders the linens, towels, and purificators, straightens out the cassocks, makes sure that the priests' microphones have fresh batteries, and generally keeps things in order in the sacristy. What's the best thing about that? "It's a holy place. So very calm and peaceful", says Jeanne.
Jeanne was instrumental in starting N.O.A.H. at St. Francis de Sales. Named after her son, Noah, the acronym stands for No One Alone at Home. Now run by parishioner Lucy Leahy, the group has developed a schedule with volunteers to bring communion to people who are homebound. Along with Sylvia Navin, Jeanne also works with other local parishes to cover Lakeland Nursing Home so that residents can receive communion on a regular basis. In addition, she started another project, S.A.M. (Start A Movement) to care for the homeless which was named in honor of her other son, Sam.
One of Jeanne's most meaningful endeavors is the Bereavement Ministry. In 2001, Sr. Evelyn asked her to take over this important endeavor when she retired. Jeanne says, "The Holy Spirit guided me from there!" Jeanne has a system to bring comfort and support to those in our parish who have lost a loved one. Judie notifies Jeanne when a death takes place and Jeanne initially sends a sympathy card from the parish. Three days after that, she sends a letter, and one week later she makes a phone call. She initiates prayers for the grieving at daily Mass and at the Divine Mercy Chaplet on Wednesdays. She sends letters throughout the year and calls on the 1-year anniversary. She usually manages 25-35 of these letters a month and is there to listen if people want to reach out. "I am blessed by being touched by so many people sharing their stories as they go through one of the most difficult times in their lives. Even though there is sadness, there is joy and laughter amongst the memories. Many say that they wouldn't get through it without their faith," says Jeanne. The people who have been the recipients of these caring communications give very positive feedback. "They feel comforted, supported and cared for, and very much appreciate the prayers, letters and phone calls."
Thank you, Jeanne, for your dedication and your compassionate spirit. Your efforts have made trying times easier for countless people. We are very blessed to have your time and talent here at St. Francis de Sales!