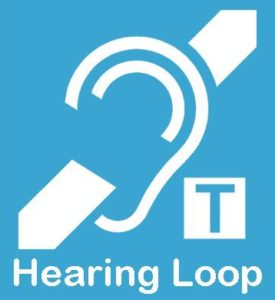 We are delighted to announce that St. Francis de Sales church is now part of a growing number of places with a hearing loop! Thank to Project 2017, our new system has been designed to cover all seating areas of the church as well as the chapel and will allow any hearing aid equipped with a telecoil to listen directly through our sound system. This results in very clear sound to the hearing aid and makes speech very easy to understand. If you don't use a hearing aid, receivers are available to borrow during Mass or you can purchase your own (contact our installer Assistive Hearing Systems, LLC at 855-566- 7488 or mthunder@Loopit8.com).
Many hearing aids already have a t-coil (also called a telephone coil, telecoil, or audio coil) installed and simply need to be activated by your hearing care professional. To make use of the system, just ask your hearing care professional a few questions:
Do my hearing aids have a t-coil?
If yes, Can you please activate it?
If no, do my hearing aids have a compatible streaming device to connect to the loop?
Please show me how to put my hearing aids into "t-coil mode"?
This same system is installed in a growing number of locations. To find more locations with a hearing loop you can visit www.ilaudiology.org/loops or www.aldlocator.com/. Other applications include: Live theaters, movie theatres, taxi cabs, lecture halls, at home and more. Any looped facility should have a sign similar to the one on the right, with the ear symbol and a "T" in the lower right.
If anyone would like to learn more about hearing loops, please request a brochure from the parish office or visit www.Loopit8.com. We will also have a training session for Ushers, Greeters, and hearing aid users to be well informed of the benefits of the hearing loop. Training session dates at St. Francis will be announced soon! Please let us know if you are using the loop by emailing stewardship@sfdslg.org and let us know of your experience. We are eager to hear your feedback!