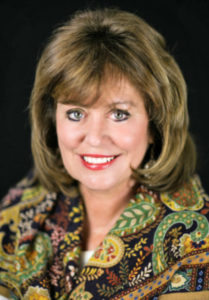 There is a special someone who has written articles highlighting many of our wonderful parishioners. The time has come for us to get to know the lady who has been the author of these articles, Martha Cucco.
Although she was born in Chicago, she spent almost every weekend in Lake Geneva as a child. Martha often went to Mass at St. Benedict's in the wee hours of the morning to accommodate her father's passion for sailing and ice boating. In 1990, Martha, her husband Rich and their two daughters moved to Lake Geneva full time. They enrolled their girls into St. Francis de Sales grade school and quickly became part of the community. Martha was on Home & School, the School Advisory Board, chaired the advent breakfast, was a Girl Scout leader, the "picture lady" and yes, even coached cheerleading for 6 years.
Once her children were a little older, Martha needed to get back to her musical roots. With a degree in Music Therapy and Classical Piano, she was quite happy to be singing again in the SFDS Chorale under the mentorship of Teresa Kiefer. Today she is a dedicated choir member as well as cantor for early mass, weddings and funerals. Martha also volunteers with the children's choir at school mass each week. She has been a volunteer with the Art and Environment Committee, a cast member in the Sound of Music, worked on the Fall Festival and the Reverse Raffle, was on the search committee for the Director of Liturgy and Music, hosts the annual music ministry picnic, and coordinated the volunteer appreciation boat cruises.
Inspired by a book called "Rebuilt" which Bishop Schuerman had recommended, she next took on the Stewardship committee. This led to establishing on-line giving, helping to design the new website, developing new tools for volunteers and ministries, and maintaining social media and other marketing for the parish. The Lord seemed to continually steer her towards a bigger project, Project 2017 to be exact. Martha became extremely interested in the history of St. Francis de Sales through her involvement with the 150th anniversary of the church in '92 and while compiling information for the past 2 parish directories. She spent hours going through old files and microfiche, researching our faith community and our place of worship. She found out that while our parish will be 175 years old this year, a windstorm claimed the original church building. The old photos and records sparked an inspiration in her. She asked Bishop Schuerman if he would consider resurrecting the church restoration plan in time for the 175th anniversary. After much consideration, Bishop Schuerman decided to move forward and Project 2017 was brought to life. According to Martha, this has been a truly spiritual process. From the formation of the committee to the amazing support from our faith community, it has exceeded all expectations. When asked what she was most pleased with on the restoration project, Martha said she is "so happy with the number of people participating in this process, the depth of talent of all of the individuals on the committee, and the relationships and friendships that have been formed as a direct result of Project 2017."
When Martha is not at SFDS, she loves working as a real estate broker in Lake Geneva. She is also the past president of the Lake Geneva Garden Club, sings in the Milwaukee Archdiocesan Choir, co-author of two books on Lake Geneva History, and currently a volunteer with the Lake Geneva chapter of the Lyric Opera.
She is a lady who has a talent for putting the right people together for a specific purpose. Her style of leadership is quiet and she lifts up those who are working with her. Her positive attitude stems from a strong intuition which she no longer questions. "It will all work out", is one of her sayings and it is always accompanied with a smile.
When asked what she will do once the restoration is complete, she said, "I'm a little worried about adjusting to having all of this extra time, but I'm looking forward to spending a lot of it with my new granddaughter!"